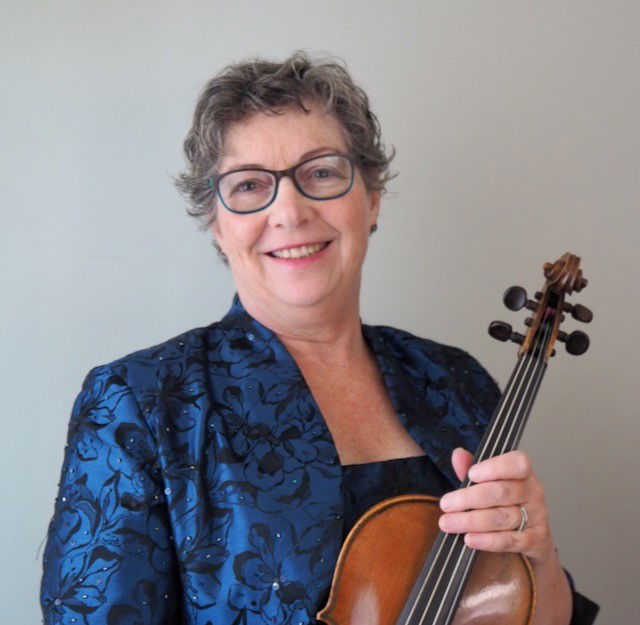 Elisa Sereno-Janz
Elisa Sereno-Janz is a violinist and violist specializing in baroque music and traditional styles. She is the founder and director of Baroque and Buskin' Strings, which later became Blue Arch Strings, a community string orchestra for teens and adult amateurs in Calgary, Alberta from 1998-2017. Elisa is a graduate of Western University with both an Honours Bachelor of Music in Performance and a Bachelor of Education.
As a freelance musician, Elisa has performed with the Calgary Philharmonic, the Prince George Symphony, the Symphony of the Kootenays, the Red Deer Symphony and the Lethbridge Symphony, as well as her trio Fine Blend (1984-2005) with Tim Janz (flute) and Arthur Bachmann (viola).
Throughout her teaching career which spans almost forty years, she has been interested in the idea of teaching music through folk songs and folk music. She has written and arranged over 30 pieces for string orchestra and string quartet based on traditional music.
Elisa and her husband Tim Janz founded the Celtic traditional band, Prairie Ceilidh in 1994. In the eleven years that they were writing music, performing and touring, they also recorded two albums, Dry Island and A Prairie Ceilidh Christmas.
Elisa's interest in baroque music led to her attendance at the Tafelmusik Baroque Summer Institute in 2003 and 2004. She has presented papers at the North Atlantic Fiddle Convention in Aberdeen, Scotland (2006) and Derry, Northern Ireland (2012).
In 2010 Elisa returned to school to pursue her other artistic passion, and earned a BFA from the Alberta College of Art and Design in 2014. Her multimedia project, FiddleLights where she integrates music and visual art has been presented at the Electronic Visualisation and the Arts conference in London, England in 2013 and the North Atlantic Fiddle Convention 2015 in Cape Breton.
Elisa is happy to return to conducting, and is looking forward to an exciting season with the Calgary String Collective.