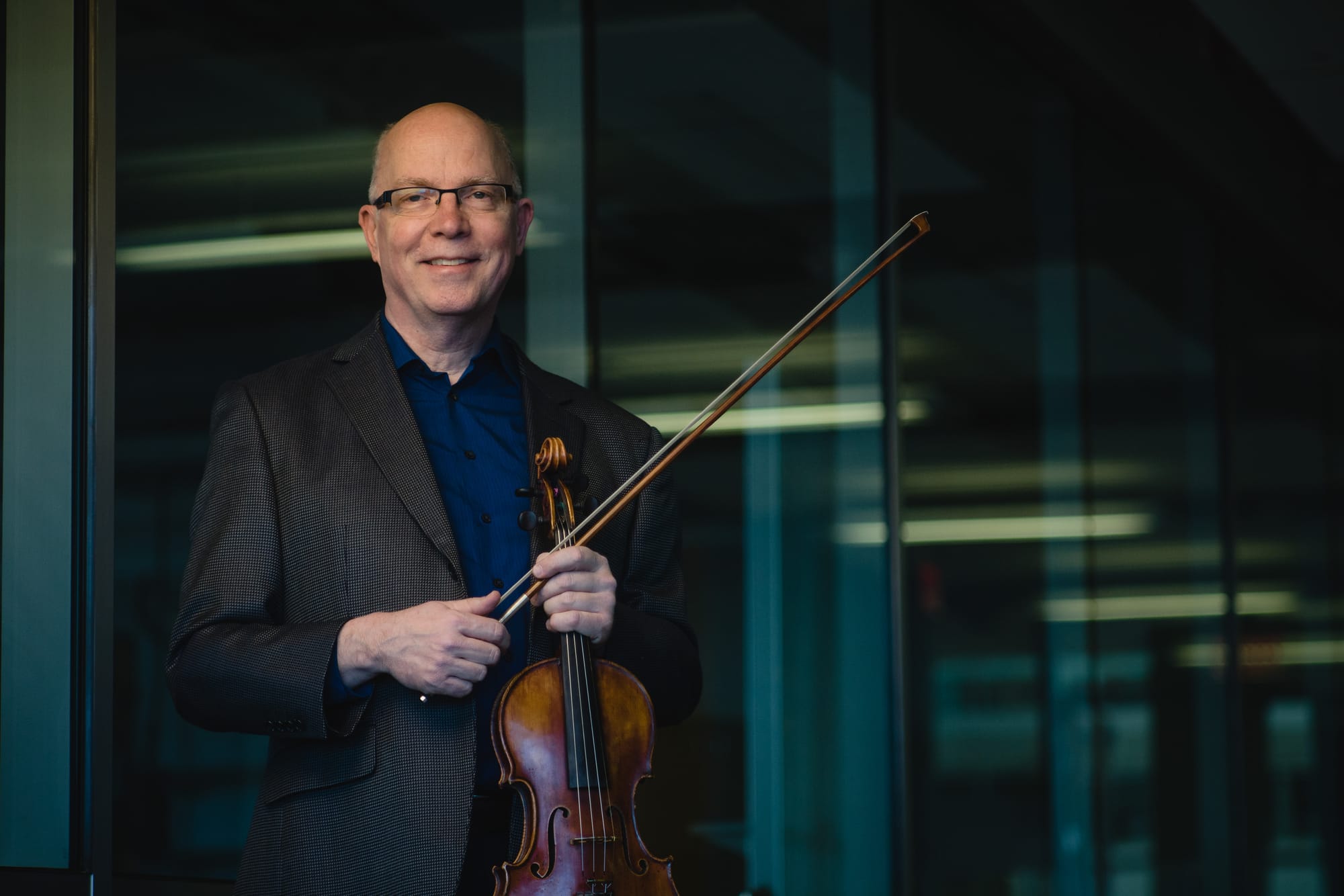 Robert Penner
Robert was born in Winnipeg, Manitoba, began playing the violin at the age of nine, and in orchestras a year later. His professional career includes three years as Assistant Concertmaster of the Regina Symphony Orchestra and 32 years a member of the first violin section of the Calgary Philharmonic.
He holds a B. Mus. from Brandon University where he studied with the late Francis Chaplin. Robert is also a baroque music specialist, having studied with Jean Lamon, Stanley Ritchie, and Mark Destrubé. He has performed with the internationally acclaimed Tafelmusik and the Pacific Baroque Orchestra.
He studies conducting with Gareth Jones at the University of Calgary, and participated in the SAITO International Conducting Workshop in 2021.
Robert also has extensive chamber music experience. He was a founding member of the Kensington Sinfonia and the Zabaglione String Quartet, with which he performed throughout Alberta. Cellist Tom Megee is a frequent collaborator, and the duo have played numerous concerts through the CPO's Outreach and Education programs for children and seniors in Calgary. Robert continues to play in a number of other chamber ensembles.
Retired from orchestral performance since 2015, Robert has devoted himself to teaching and coaching violinists of all levels. He gives masterclasses through a broad range of repertoire and is a continuing coach of the Calgary Community String Orchestra, where he also coaches small ensembles. He continues to pass his expertise and love of music to new generations of musicians through adjudicating string classes for various music festivals around Alberta, as well as coaching the annual Youth Orchestra Symposium in Banff. He has been Music Director of the Calgary String Collective since 2019.
Robert's mission is to bring joy through music with compassion, insight, generosity, and his signature good humor.